No matter what you do, at some point in owning a dog, you'll eventually have to fight off fleas. Don't kick yourself in the butt, as if handled well, it won't pose much of a problem. You just need to ensure that you use a good effective product to get rid of them.
Today ill share the best flea shampoos I've personally found to work the best with my double-coated Golden retriever. Hopefully, in doing so, you'll be able to easily make a decision on which one is best for your dog.
Let's get stuck in!
If you're in a rush, then just check out the top 5 shampoos below. However, if you got a little more time (which I recommend you do), then read more in-depth fleas and shampoos below.
5 Best Flea Shampoo for dogs this year
How to identify flea infestation in your dog?
first things first, and that means identifying whether your dog even has fleas in the first place. To help you with doing so, I've included a few tips on what to look out for if you become suspicious that your dog has fleas.
A few common signs are:
Biting
Scratching
Licking frequently (in a specific area)
Scabs
Red Bumps
There's also a similar to dirt looking residue that fleas leave behind. So if you ever come across that, then you've definitely been infested. Heres a pic of what it looks like below: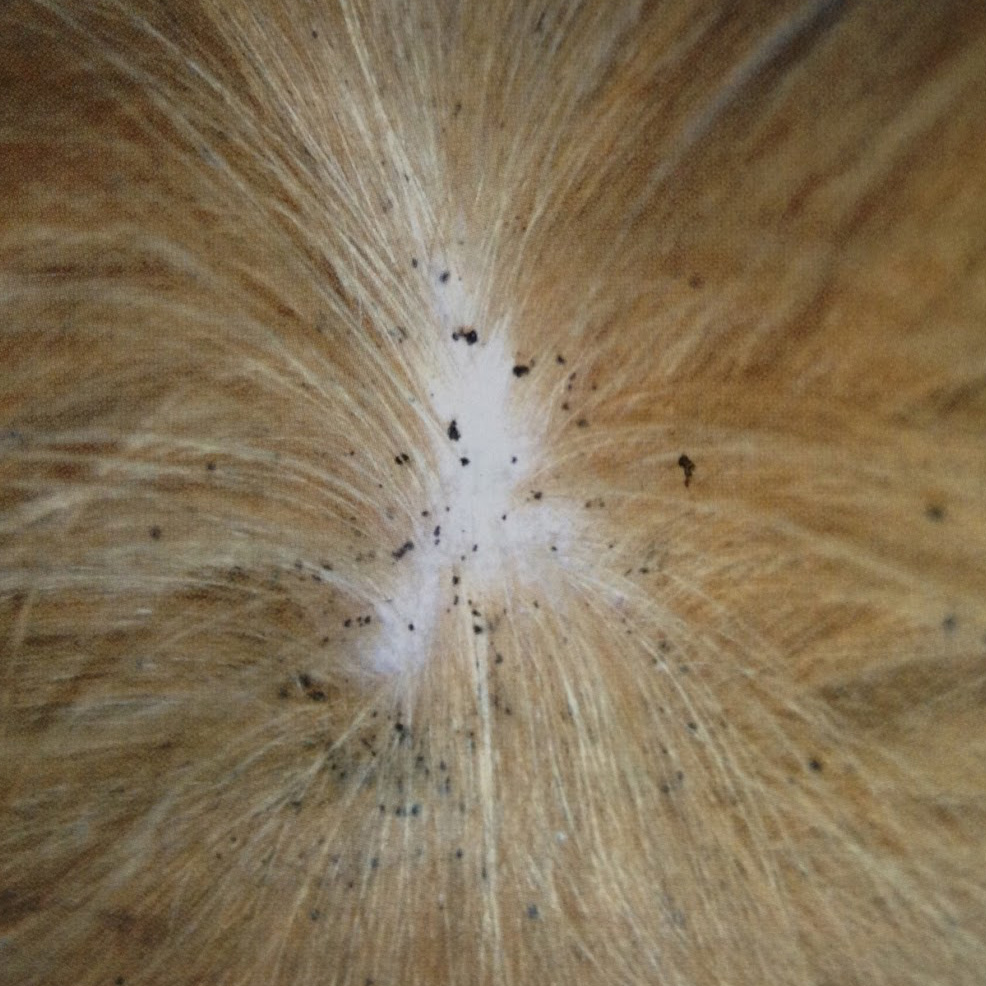 I don't know whether its dirt or poop, but it doesn't look appealing. If you see this then its time to take action in getting rid of your dog's fleas.
But honestly, don't think thats its anything you have done wrong, as it's perfectly normal for a dog to get fleas. It wasn't that you never kept them clean enough or allowed them to play somewhere they shouldn't have. Its just nature and its something that most if not all dogs experience at some point.
Now that I got that off my chest, let's get into the next steps you should take.
NOTE: A flea feeds 15 times its body weight in a day and can start reproduction within 24 hours of finding its host. More info on fleas here.
Consider how suitable shampoo is for your dog
Age
For example if you won a puppy , then you'll need to ensure that the product you choose doesn't contain any harmful substances. some formulas are not suitable for underaged dogs, so be sure to make sure that its suitable fr your pup.
On the other hand you'll usually, be just fine with an adult dog and most products, although breed can also pose a problem, I'll touch more on that in a moment.
Health
Flea shampoos for dogs are made with pesticides, among other things, and they are better avoided for sick and ailing dogs. Usually, these cautions are mentioned on the packaging of the shampoos, but I would site encourages you to check out the details on the sales page before buying.
You should take necessary precautions while using them on pregnant, nursing, sick and old dogs. If the directions advise you not to use them on sick dogs, don't use them at all. There are specially formulated shampoos that you can find that will be suitable for such circumstances.
Even sensitive skin is one to watch out for!
Breed
Another important thing to remember while using flea shampoos for dogs is the breed and type of dog. There are specific flea shampoos for toy and small breed dogs. Then, there is a large variety of coats that dogs have such as long & short, thick & thin coats, double-coats and so on.
This is super simple to see on most product pages, as most manufacturers will push the breeds the shampoo is best suited to as a sales benefit.
Effectiveness
If your dog is suffering from flea infestation, the most important thing on your mind would be to find immediate relief for your pet. Will the flea shampoo you are going to buy for your dog produce the desired result?
Arguably, this is the most important consideration and you should not go only by what the manufacturer is saying. Read some reviews about the product and decide if it is going to benefit your pet.
Strength
Of course, every product owner is going to tell you that theirs is the best and most effective. Thats why I put this list together to cut those corners and help you find an effective product that gets the job done.
I would also recommend that you check ou the reviews on the amazon product pages for each of these products. That way you'll see how effective it has been on other dogs too.
Just make sure that you get a shampoo that works on the fleas and their eggs if you're experiencing that problem. Most will state this on the front of the bottle, but be sure to look out for it if you've seen eggs laid too.
Now its finally time to get into the detailed reviews for each product on the list.
Top 5 Dog shampoos that stop fleas
This is a powerful shampoo made with natural products and essential oils that kills fleas and ticks on mere contact. It doesn't contain any strong chemicals such as pyrethrin or permethrin. It's instead enriched with 5 natural essential oils that include: lemongrass oil, – clove oil, cedarwood oil, sesame seed oil, and cinnamon oil.
This shampoo has a citrus aroma that really nice to smell. This is certainly a great flea shampoo that kills all infestations on your dog's body with efficiency but does not have side effects. Here are a few key benefits to this product:
Key Benefits
Soothing
Super effective
Organic
Stops fleas coming back for 7 days
Suitable for 12 weeks+ Age
Pros
Free from pesticides & chemicals
Strong & effective
Huge pack
Cons
Not to be used on other pets
Scent is a little overwhelming
This is an all-round super strong and effective product. Of course, that also plays as a downside too as the scent is also as strong as the product works. But of course, that's my personal opinion, so you'll have to see for yourself.
This made in USA natural flea and tick killer is a great product as it can be used on all kinds of pet animals such as dogs, cats, horses, among others. It is also safe for use on young pets such as puppies and kittens. While it effectively disinfects and kills fleas and ticks on your pet's bodies, it comes with a free natural scrubber.
For a natural chemical-free experience, soap bars are probably the best way to go. This works especially well with dogs that have skin disorders too.
Key Benefits
Suitable for most animals
Handmade & Natural
Pros
Organic and free from toxins
Can be used on all animal pets
Cost-effective
Comes Free burlap scrubber sack & strap
Cons
Need to rinse thoroughly
Not super effective
This is a great organic product that comes at a good price and does a good job of protecting your dog's skin whilst getting rid fo fleas. A downside is that this is not super strong and effective, ut if your dog has sensitive skin, then this is a great place to start.
Adams Plus Shampoo with Precor kills both fleas and ticks, and as per the reviews by some users, it kills lice, too. At the same time, it's meant for sensitive skin that means it can be used for most breeds and coats.
It contains a deep conditioner that removes scales, dandruff, and dirt from the dog's skin. It's enriched with coconut extract, oatmeal, aloe, and lanoline. Besides adult fleas, it kills flea eggs and larvae as well that prevents reinfestation.
Key Benefits
Large 24-Ounce pack
Prevents the development of fleas for 28 days
Safe for all dogs above 12 weeks old
Pros
Pleasant smell
Can be used on cats, puppies, kittens
Pump design
Kills fleas effectively
Cons
Need to wear gloves while using
Leaves fur and skin dry
Here you have a great smelling, all-rounder shampoo that can be used on just about any most common household pets. It has a great design and works well, but does leave your pup's skin a little dry.
This oatmeal-based flea shampoo for dogs effectively kills fleas, ticks; their eggs and larvae, and prevents any reinfestation within 10 days. It's rich in conditioning and deodorizing properties. After a bath with this shampoo, the fur and skin of dogs look soft and shiny.
It's mild enough to be used on sensitive skin dogs and be used on puppies which are 12 weeks or above old. However, this is not recommended for cats or kittens. If you are looking for a milder flea shampoo for your dogs, this is the one for you.
Key Benefits
18-ounce pack
pH balanced
No reinfestation within 10 days
Kills deer ticks too
Pros
Smells great
Lathers well
Leaves skin soft & shiny
Cons
Prevents reinfestation for a brief period
Not to be used on other pets
This is a nice shampoo that will make sure you're dog's skin remains intact. The fact that it stops re-infestation for a period of 10days is great, and it layers on really well making it number 4 on the list.
This is a great product that works well on getting rid of fleas and ticks too. It lathers well and richly and has a really pleasant scent. Just be aware that this can only be used on dogs above the age of 6 months only.
It's super easy to apply as all you need to do is massage this into your dog's coat from head to toe, which should take about 5 minutes (depending on your breed). Then re-apply once just per week going forward from there.
Key Benefits
18-ounce pack
Soothing formula for irritable skin
Pros
Strong & effective
Inexpensive
Only need to apply 1 time per week
Great fresh smell
Cons
A little too strong
Not to be used on other pets
Last but not least, this is a great product that will work well on dogs with sensitive skin. Whilst the scent can be a little strong to smell, this definitely does a great job of fixing the problem with little to no work needed from you.
Do fleas spread elsewhere?
The sad answer to that question is YES! Unfortunately, you'll find that fleas spread around your home if your dog has them. So if you have more pets at home then chances are you'll find that it will pass from one to the other.
fleas lay eggs, larvae that range from anywhere between 2 to 2 dozen. So in order for you to stop any further infestation, it's super important to stop them right in their tracks and prevent your home from any further potential harm.
So, how do you go about treating this? What can you do TODAY to start taking action in a positive direction? Keep reading to find out.
How to stop fleas in your home
Can you cure the problem with home-based or natural remedies? You may try but for a perfect result, you will have to count on proven treatment and solutions. While, you will have to treat your entire home, especially the big suspects such as the carpet, sofa, beds against flea infestation, you will have to find the right treatment for your pets, too.
If you don't banish the fleas in their entirety – eggs, larvae, small and adult bugs – they will bounce back after some time. For a permanent solution, you will have to eliminate them and break their life cycle.
If you find that things are serious with the infestation and problems in your do. Then you may want to consider contacting a professional vet better help fix it.
Frequently Asked Questions (FAQs)
Like always, I thought I'd answer a few of the most common questions I hear around this topic. So before you leave a comment, just read through these questions below to see if you can find any answers to what you had in mind.
Should I buy flea shampoo for my flea-infested dogs?
Pet owners who give their dogs regular baths or whose dogs tolerate regular bathing should buy flea shampoo for dogs. Many a time, giving a bath to the dog is a nightmarish experience. If the dog does not enjoy taking a bath, other flea treatments such as oral pills or spot-on treatments should be used.
How often should I wash my dogs with flea shampoo?
If you are using a shampoo that is made with all-natural ingredients and is completely chemical and toxin-free, you can wash your dogs with such shampoos as often as you need. But if you are using a shampoo that is made with chemicals and pesticides, you should be using it sparingly and at proper intervals.
Indiscriminate use of chemical-based flea shampoos is not good for the health of your pet. Depending on what type of shampoo you are using and what reactions it's leaving on your pet's skin, you can give them a flea shampoo bath at 10 to 30 days of interval.
Does flea shampoo give good results?
Flea shampoos can effectively kill fleas and in most cases ticks, too. They also kill flea eggs and larvae. But the infestation is likely to return if the home itself is infested with fleas. For the best results from your flea shampoos, you should also carry out comprehensive flea treatment in your home.
If the flea shampoo you are using does not kill flea eggs and larvae, then also the infestation will return.
Do flea shampoos come with an expiry date?
Yes, like most other products in this category, flea shampoos, too, come with an expiry date. Though you are unlikely to find a flea shampoo still on the shelf after its expiry date, if you use such products, they may not produce the desired results. It's better to avoid them altogether.
Can regular dog shampoo kill fleas?
Regular dog shampoos are not meant to kill pests on the dog's body. You need specifically formulated flea shampoo for dogs for this purpose.
Conclusion
Flea infestation is annoying and irritating for both you and your dog. By reading this post, you'll quickly be able to identify key products that are best suited to your circumstance.
Of course, you will still need to read the product pages to be sure that everything checks out ok. But the products on this list are ones that I know are all good and effective, so this should help you to make a decision with ease.